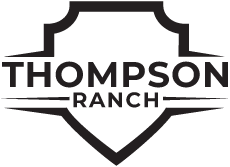 Located about 30 minutes from the restaurants and bars of Missoula and less than 15 minutes from world-class whitewater rafting in the famed Alberton Gorge, Thompson Ranch has something for everyone.  Comprised of roughly 650 acres of meadows, rolling woodlands, and steep terrain from the bank of the Clark Fork River to the edge of Lolo National Forest, the ranch was first established in 1903 when Thomas and Blanche Thompson purchased the land from Henry Brown, who originally homesteaded the area in 1891, and began raising horses and cattle.
The historic features of the ranch that can still be seen today include a horse and cow barn dating back to the 1910's and 1940's respectively. The cow barn provided storage and cover for ranching activities that once provided milk to the town of Alberton. There is also evidence remaining of the railroad grade that trains once traversed through the heart of the ranch (see historical image below) on their way East or West through the town of Alberton.
The property underwent a logging operation in 2011 under the Forest Stewardship Incentive Program (SIP), and was again tended to by a professional forester in 2020 to maintain the health and beauty of the wooded land. Upper portions of the ranch are at an elevation of 4,400 feet. Wildlife abounds, including elk, deer, bear, coyote, fox and many woodland birds.
Nearby landmarks and amenities include: Alberton Gorge, Petty Creek boat launch and fishing access, Petty Creek beach, Lolo National Forest, The Alberton Skate Park, The Montana Valley Bookstore, The River's Edge Resort and Steakhouse, Natural Pier Fishing Access and Bridge, The Alberton Rock Climbing Area, Tarkio East Fishing Access, Riverview and White Raven Venue and Retreat Centers, The Jack Saloon, Lookout Pass and Snowbowl ski areas, the Hiawatha Mountain Bike and Hiking Trail, and so much more.